THE WANNABEATLES
– WHERE FAB MEETS FUN!
Get ready for a different kind of Beatles experience that combines great Beatles classics with hilarious on stage antics, audience involvement and award winning entertainment.

Grammy nominated for "Fab Fan Memories – The Beatles Bond"
National TV appearance on Fox Network
USA representative Beatles 50th Global Anniversary
"We Wanna Meet Paul" video gone viral
One-of-a-kind Ed Sullivan live-to-video re-creation
Symphony concerts and Master Classes on The Beatles
"You all are so good that I had people around me asking if you were playing, or if it was recorded!! It was such a FUN night!
  You guys are FANTASTIC!"
--- Discovery Park of America
"I can honestly say I've never enjoyed a live, musical entertainment event more. And the mayor's wife loved you!"
--- Alhambra Theatre
"The crowd loved you! It was so much fun and much more than just a concert!" The most memorable event I've ever attended here."
--– The Renaissance Center, Dickson, TN
"People are still talking about the show. It was entertaining from start to finish."
--– Holland Theatre, Bellefontaine, Ohio
"It was such a joy to watch the crowd light up during your show" "
--– Lakeside Live, Lexington, KY
If you like The Beatles, you'll love The WannaBeatles Show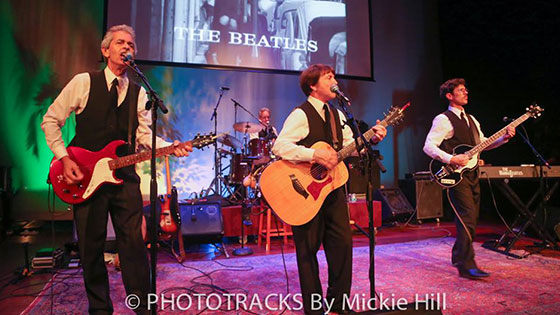 ABOUT THE WANNABEATLES
The WannaBeatles are Grammy finalists who receive standing ovations at theatres, festivals, and events across the country. They have appeared on both national television and on stage where they use their multi-instrumental skills to re-create all eras of the Beatles' songbook and more.
These seasoned showmen will entertain you with music, comedy, and special material to create a different kind of Beatles experience.
Looking for something different? The WannaBeatles' repertoire includes chart toppers from the 60's and the 70's featuring hits from The Doors, Buffalo Springfield, The Who, Simon and Garfunkle, The Monkees and many others.
The WannaBeatles - Where FAB meets FUN!
WannaBeatles Originals

Grammy Nominated

Audio book hosted by Louise Harrison.