When it comes to recreating the fun and excitement of the most popular band in music history, The WannaBeatles more than live up to their name.
As befits their Grammy finalist status, they are the only tribute act to have written songs for fellow nominees Paul McCartney and Betty White. The videos for "We Wanna Meet Paul" and "Oh Betty! (The Betty White Song) have brought smiles to fans and concert goers alike.
The career of The WannaBeatles parallels that of their mentors. Like The Beatles, whose career began at an underground Liverpool venue called The Cavern Club, The WannaBeatles got their start playing at a Mexican restaurant in Nashville where "Beatles and Fajitas" were the chosen fare. For Dennis Scott, Bryan Cumming, Nathan Burbank, and David Toledo it was love at first note!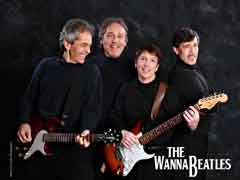 Entertaining at Nashville hot spots proved to be a springboard for higher profile shows which included appearances with such renowned artists as Wynonna Judd, Phil Keaggy, and Jonny Lang. Their performances at The Tennessee Performing Arts Center, The Music City Bowl, and Georgia's New Year['s Eve Peach Drop earned them enthusiastic reviews and standing ovations. They quickly learned that by being themselves they could have more fun on stage and engage their audiences in a whole new way.
The WannaBeatles like to say that they go "where no Beatles band has gone before." Their travels have taken them from Perdido Beach to New York City where they appeared on national television. Their recording, "Fab Fan Memories – The Beatles Bond" was nominated for Best Spoken Word Album.
It wasn't long before the band's on stage collaboration included their combined songwriting skills. Soon the City of Virginia Beach commissioned them to compose "In '63", celebrating the city's 50th anniversary which led to a full length album of their original songs including such favorites as "Oh Betty! The Betty White Song" and "Bristol Lights". And although The WannaBeatles have not yet realized their dream of meeting Paul McCartney, their video "We Want to Meet Paul" expresses the sentiment of like minded Beatles fans who wish they could shake hands with The Beatle on bass.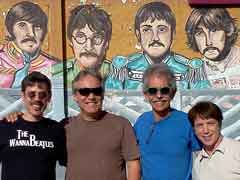 The WannaBeatles have produced ground breaking concerts including a rooftop concert on a downtown Nashville building to celebrate the 40th anniversary of the Beatles final concert together made popular in the film, "Let it Be" with proceeds donated to The National Association of Music Education. Their 50th anniversary concert commemorating The Beatles famed February 9th appearance on the Ed Sullivan show had people lined up at the Omni Hotel. And when Sir Paul visited their hometown of Nashville, the WB's staged a "Welcome Back Paul Party" across the street from where Paul was playing - including dancers and a big yellow "Love Bus."
The latest chapter of The WannaBeatles' journey has taken them from the solo stage to concerts with symphony orchestras. In addition to playing the Beatles songs that feature orchestras, they have expanded that repertore by writting arrangements for additional Beatles songs – much to the delight of audience as well as the musicians on stage.
When it comes to getting the Beatles music right, The WannaBeatles do whatever it takes. They use all their multi-instrumental skills to re-create all eras of The Beatles song catalogue. dennis Scott, the groups leader proud shares how, We literally turn ourselves into pretzels to reproduce songs that The Beatles themselves never performed live."
The WannaBeatles are also happy to announce s new segment of their show "BOOMER JUKEBOX LIVE" which includes musical medleys featuring number one songs by The Monkees, Neil Diamond, David Cassidy, The Doors, The Association, Simon and Garfunkel, The Who, Three Dog Night, Blood Sweat & Tears, Creedence Clearwater and even The Rolling Stones!
And maybe that's what makes The WannaBeatles special. It's a team effort that lovingly allows the audience to share in their journey to go "where no Beatles band has gone before."
Dennis Scott

Vocals, Guitar, Bass

Dennis Scott is a two-time Grammy and Emmy award winning composer and producer. His songs have been recorded by such artists as Ray Charles, Faith Hill, Alison Kraus, Sugarland, Crystal Gayle, Amy Grant, The Muppets, and many others. His music has been featured on shows such as Sesame Street, Fame, Who's the Boss, Macy's Thanksgiving Day Parade, Clifford the Big Red Dog, Magic School Bus and others. Dennis has also served as musical director for The National Child Safety Council and the PBS children's TV series, Noddy. His current project is a follow up to his Grammy winning tribute album to the late Fred Rogers called, "Songs From the Neighborhood - The Music of Mister Rogers.

Bryan Cumming

Vocals, Guitar, Horns

Bryan Cumming grew up in Georgia in a musical family playing Dixieland jazz and singing harmony on Beatles songs. After a year in the Army playing saxophone, he toured and recorded with Martin Mull. Moving to L.A. in 1976, Cumming played sax on sessions with such artists as Al Jarreau, The Pointer Sisters, Maria Muldaur, Al Hirt and The Ohio Players. As a member of Billy Vera and The Beaters, he performed at the Tokyo Music Festival and played on the #1 single "At This Moment". As a member of the L.A. Jazz Choir, he performed at the Dorothy Chandler Pavilion. He toured Japan and South America with David Soul, and toured four years as lead guitarist for ShaNaNa. Moving to Nashville in 1988, he worked with K.T. Oslin and Cleve Francis, and established his production facility, Studio 23 Nashville, where he continues to produce independent artists.

Nathan Burbank

Vocal, Keyboards, Bass

Though always a huge Beatles fan, Nathan came to the WannaBeatles via a long and winding road. He took classical piano lessons from age 7 till he switched to pipe organ at 16. Nathan has a Bachelor of Music degree from the University of Vermont and a Master of Music degree from Northwestern University. In addition to the WannaBeatles, Nathan plays for the Woodmont Baptist Church in Nashville, TN, and works as a free-lance pianist, composer and arranger. From Bach's Toccata & Fugue in d minor to the Beatles' Twist and Shout, Nathan loves it all.

David Toledo

Vocals, Drums, Guitar, Keyboards

Keyboards David is a musician with over 45 years of musical experience. A multi-instrumentalist, David has vast experience playing, directing and teaching all ages, levels, groups, ensemble settings and has taught literally thousands throughout his career. A graduate of the prestigious University of Miami Jazz program where he received his Master's in Jazz Writing/Arranging and a Bachelor's in Music Education, he has been an active musician from childhood, professionally active since the age of 14 and a teacher from the age of 17.